We've looked at the expert predictions earlier today, but now for the real experts that you've all been waiting for…us at NOHS. Here's our completely unbiased, 100% researched, no favoritism at all for the good guys in red and white or against those bastards in black. Lets start with our reporter in the desert:
---
Sully:
Our leading goal scorer is Pavel Datsyuk with 15 goals, but our team gets timely scoring from all lines and we have a bit of depth. Z is our top point getter with 48 points. Anaheim's top goal scorer also has 15 goals (Getzlaf) and their points leader has 49 (Getzlaf again). I think these teams are more evenly matched than their points total shows. Difference being Jimmy was our only goal-tender with W's, they had two great goalies. But I think our top forwards play a very good shut-down role against guys like Perry-Getzlaf-Ryan-Selanne and we have a history of making mediocre goal-tenders look great but great goal-tenders look silly. Plus, for all the grief we've given Mike Babcock this season, I think he'll out-coach Bruce Boudreau in this series and we'll all remember why we like having him on our side.
Wings in 6.
Josh Howard:
Jimmy Howard steals the show AND the series. I don't even need a paragraph for that.
Drew:
It all comes down to the youth on defense. Our young core of forwards (Nyquist, Emmerton, Andersson) are going to be working their tales off along with the vets like Tootoo and Eaves. But the youth on the blue is what I think makes or breaks this series. Kids like Smith and Dekeyser were stars in college and it's time for them to start playing like stars in the NHL. We know Howard is tough mentally and will remain steady. We know we have a steadfast coach and we know that Datsyuk, Zetterberg, and (play-off) Franzen are better than Perry, Getlzaf, and Ryan. We take this series.
Twig, Jordan, Chris and your predictions, after the break:
Twig:
Howard is too good right now and our offense clicked at the right time.
Wings in 6.
Jordan:
I don't think Jimmy feels the need to prove he's one of the best Goalies in the world, but he will do just that over the course of the series. The team is clicking at just the right time with a perfect mix of veterans and youth. Zetterberg, Datsyuk and Franzen are ratcheting it up for their favorite part of the season. Getzlaf, Perry and Selanne will struggle once the Wings start to get under their skin, leading to frustration and bad penalties. We will see scoring from all 4 lines giving the Ducks unproven Goalies too much to handle.
Wings in 6.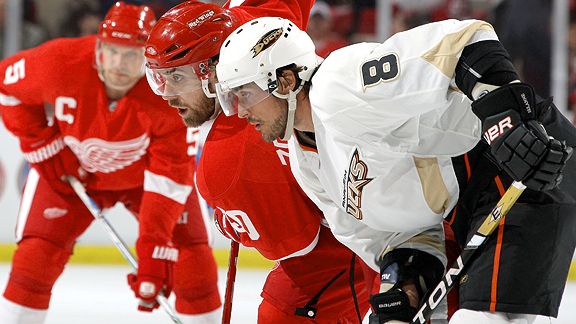 Chris:
I'm not as nervous about this series as I was with last year's with Nashville. Maybe it's because we aren't facing Rinne. Maybe it's because I think this team has a fire that last year's didn't. Or maybe it's because I don't have any expectations, I'm not sure. But what I do know is that Zetterberg and Datsyuk outclass Perry and Getzlaf in every way and Howard has been better than Hiller nearly all year. If Franzen and Val can be better than Ryan and Teemu, Detroit will win this easily. But if not, this is going to be close. Still, this isn't the Ducks of old. I don't see Pronger on this blueline.
Wings in 7.
Your predictions? Leave 'em in the comments and LGRW.