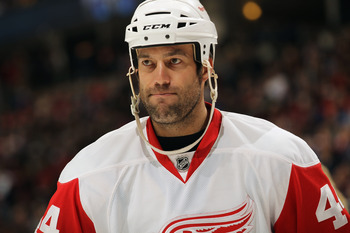 Unfortunate, but not entirely unexpected news out of Detroit today. Todd Bertuzzi is going to hang up the blades despite earlier reports that he was getting closer to returning. In a way this isn't terrible because guys like Nyquist and Tatar will be further up on the depth chart, but as a fan of Bert, this sucks.
More after the jump:
Since Bert's contract is 35+, his $2 million cap hit won't come off the books until after next season. Not cool.
Some of Bert's teammates spoke about his decision, which is expected to be announced officially sometime tomorrow.
"His retirement leaves a big hole in the shootout lineup, that's for sure." –Zetterberg
"He was team player that was well-liked in the locker room. He could score or fight, whichever was needed." –Howard
Again, Bert is expected to make an official announcement tomorrow via press conference, but did explain why he came to the difficult decision.
"Honestly, my back isn't a problem anymore. It's been good to go for months. It's just that my latest business venture 'Bert's Ping Pong Table Security' (BPPTS) has really taken off and I want to focus more on that at this time."
There were other factors, though.
"Not too long ago this guy on this Red Wings blog would do 'Hulktuzzi' pictures. Jordan Reis, I think his name was. He stopped doing that and now it's just 'movie poster this' and 'movie poster that!' It's bullshit!"
Ahem. April fools, in case you haven't caught on yet. If you want to kill me right now, then I did my job.
LGRW!