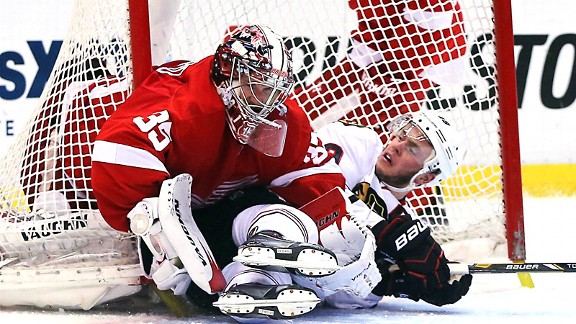 Oh my gosh. I mean, wow. It's like, DUDE! Are you kidding me!? I just can't… wow. Just, wow.
More after the jump:
Wow.
Did you see Al Sobotka before the game started? Duncan Queef stands right next to him so he can't twirl the octopi. Al says something to him, then starts swinging it around like a madman. I like to think Al warned him that he was swinging it no matter what, then did. Even our Zamboni driver is a badass.
Jakub Kindl played an outstanding game today and I noticed that way before he scored the winner. He played physical hockey and made smart plays. That's all I ask for from these guys. Smith and Quincey were also great tonight. Kronwall and Ericsson, too. I guess Colaiacovo was the only one that made me nervous at times not getting back.
The kids! Dude! KIDS! They came close a lot of times and used their speed to disrupt breakout passes. Nyquist and Brunner get most of the love, but Andersson is the rock of that line. Smart plays and what must be an infuriating poke-check when the point man is trying to setup on the PP.
Zetterberg is living inside of Toews' head right now. Toews is making Crosby and Getzlaf seem calm and collected. My favorite part is how Hank just stands there letting Toews slash his shins and ignores him like the ankle-biter he is.
Jimmy Howard was a wall tonight. He is the best goalie in the playoffs right now. No doubt about it.
NOHS Three Stars of the Game:
First Star: Jimmy Howard. Shutout victory in the biggest game of his life. Worth the price.
Second Star: Jakub Kindl. GWG and SOLID play at both ends all night long.
Third Star: Henrik Zetterberg. Toews is going to see that Swedish smile in his sleep. As will I.
Honorable Mention: Anyone on the PK. Seriously, what did Chicago get? 1 shot with 3 chances including a late opportunity? Amazing job.
In this day and age there is no such thing as a stranglehold on a series. Wings came back from 0-3 to force a game 7. Hell, Chicago did the same in 2011. This isn't over. But almost.
LGRW!!!!!!!