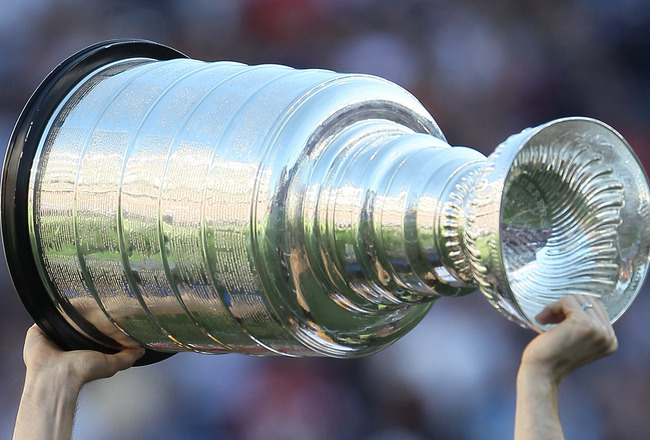 Superstitions, everyone has them. Don't lie, you know you do.
I'm a goaltender. And, as you know, goalies are batsh!t crazy, especially with superstitions. I've toned down my pre-game routine from one that lasted almost 2 days when I played in college, to simply having to listen to the same song while driving to the game and having to stop the last shot in warmups. I've become a little saner as I've grown older in this respect.
But during the playoffs, I still have a million superstitions when it comes to Red Wings games. I can't stop myself.
Hit the jump to hear about my and your superstitions regarding the Wings:
In the past, as a 5th grader, I remember I once ripped up around 30 Patrick Roy cards in an attempt to help the Wings out thru voodoo magic. I don't think it worked that year, but I was doing everything I could to help our boys. And who knows, maybe that was enough to cause the infamous statue of liberty pose in 2002.

Today, my superstitions aren't long standing ones, but ones that start whenever they win and continue until they lose. I will be wearing the exact same clothes I wore for game two when game five rolls around tomorrow. Where and who we watch the game with depends is affected by superstitions.
When I used to live with Drew in college, the year they won the cup, our neighbors were big Wings fans as well. Whenever Detroit scored, we'd pound on the wall in celebration. They'd respond with a few thuds back. This continued until last year.
I can remember another one that same year: we used to force my friend Phil to watch from the kitchen (this started as a Lions tradition, but has spread to the Wings). So here we are, all on a comfortable couch, except for Phil, who has to strain to see the TV from the kitchen. If things were going well, we'd let him back in, but if things went badly, back in the kitchen he'd go. That's life.
It, uh, didn't help the Lions much that year.
On the blog, I find myself doing a few things here and there which my or may not help. For a long time, Twig was convinced a pre-game post by him could cause disaster. I stopped saying LGRW last playoffs in my pre-game post after someone noticed that the Wings hadn't won a game when I had done so. And so it continues, in all aspects of my life.
So, that's me. Now I ask you, what superstitions do you have?