So we got a ton of questions submitted for the first NOHS roundtable and there were a ton of great ones in those. So here's part one, answering four of the first questions submitted. Let's hear your thoughts on this as well, plus you can vote on which answer was the best after each comment. Now, let's get on with it!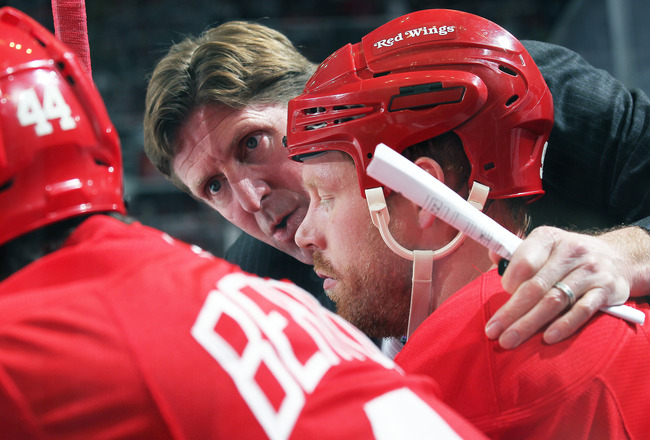 1. Despite the fact that the Wings played terrible Wednesday, the lines are the same and Nyquist might be a scratch for Mursak to play. Is this just another classic Babcock move where his stubbornness is getting in the way of good hockey? Is Mike Babcock really the greatest coach we often set him up to be or is that just a sacred cow?
Jordan: Nyquist is virtually ineffective on a checking line as is Mursak. I think that putting him on the 4th is a way to keep him in the game to be used if needed. You can't just bump Mule to the 3rd or 4th in favor of a rookie when he needs to get into playoff mode. Nyquist has earned his spot as one of the 12.
Josh: I think Babcock is one of the greatest coaches, but that doesn't mean he won't make mistakes. This whole thing with Nyquist makes me question. But, I think it just is to make sure everyone has the same work ethic and "earns their spot". Let's face it, Babcock is pretty stubborn and set in his ways. Realistically, which is better… to have a coach that can get a team to the playoffs every single year… or one that will only get them to the playoffs 1 out of 4 years with that 1 time being the Cup? I'm going to go for making the playoffs and getting some sort of run going over inconsistent success. Babcock is the coaching equivilant of Franzen… he is what he is. He's brilliant, can be outcoached because his style is to let the players be professionals… not kids. But, that's what's great about him… he can squeeze blood from a turnip… or goals from Danny Cleary.
Twig: Detroit has not played its best team yet this year. They never played Kindl and Commodore together when Ericcson played poorly. Hudler was on the point for the power play, instead of an actual defenseman, which is a big reason we give up so man shorties. Emmerton dressed for games. Going back to last summer, I have started to wonder if Mike Babcock is just insane. Clearly his lineup choices are wrong. We all see it, why can't he? If he does in fact scratch Nyquist for Mursak, then I will know for certain that Babcock is an idiot. Early in the year when Conklin had a shutout, he didn't dress him again until we played the Caps, the hottest team in the NHL at that time. Then he sits him for weeks at a time and what happens? He's rusty as hell when he has to cover for Howard. None of us are surprised by this. The Modano incident. Scratching a fast, healthy forward for Hudler. Lying to Mike Commodore about getting a fair shake. Sometimes I wonder if Babcock is really this dumb or if he makes all of these idiotic decisions (3rd line on the ice in last seconds of game 7) so that if they work he can look like a genius.
Sully: Let's not lose sight of the fact that Babs has one of the toughest jobs in hockey, managing all that talent. Sometimes I feel we pay him more to keep everyone from turning into a headcase and demanding crazy things like $8 mil a year or the captaincy. So no, I don't think he's the best coach in the business. And his line combinations often suck, but fans like me just suffer through it because the guy's got a history of winning.
Drew: I refuse to believe that Mike Babcock would ever let his stubbornness get in the way of putting the best lineup possible on the ice each and every night. To insert Nyquist where he'll be effective (top two lines) you have to move one player down from each line.
Chris: Babbles is one of the best coaches in the league. He demands the absolute most of his players and will not take anything less than the best. He hates losing more than almost anyone. Plus, he's a total dick to Pierre, which makes him an awesome coach in that respect alone. That being said, he has a problem with having a love affair with some players and dislike for others, notwithstanding their play on the ice . Some players are set up to succeed from the start by Babcock, such as Abdelkader and Ericsson, while others are barely given a chance, such as Brunnstrom and Commodore. That drives me nuts. The Modano incident was something strange and I've never liked how that went down. On the other hand, I think he's handled Hudler perfectly this season, as well as Cleary. So while I don't agree with his player decisions at times, the man knows what he's doing.
Hit the jump for the rest of the table, which isn't square:

2. Is Brendan Shanaban's porridge of head shot punishment too hot, too cold, or just right? Are the current standards helping to deter such dangerous behavior?
Jordan: Shanahan is doing the best he can given the situation. Suspensions are not stopping the injuries. The game has gotten faster putting players in dangerous positions. Certain rule changes along with improved equipment could help drastically.
Josh: Shanahan has been much more consistent compared to that yahoo that was in there before. It's not perfect, but at least guys are conscious of the fact that they WILL be punished if they screw up… unlike before. I say "just right" or I should really say "so far so good". It's not helping to deter all the dangerous behavior, but it's better than nothing.
Twig: I think it's just right. It sucks that Smith got such a huge suspension earlier in the year, but these types of plays help protect the Wings. Kronwall has adjusted his game around the new rules. He now tends to back into a player, with the exception being the Voracheck hit. If Kronwall, the alleged dirtiest hitter in the NHL, can hit hard and safe, why not Doan? Why not Keith? (Hint: They're idiots.)
Sully: Just right. I never noticed before this season how many man-games due to concussions there are over the course of the season, and it seems a bad year for concussions but only because of the spotlight cast on those injuries this year. And each time a bad hit has happened a suspension has quickly followed. I don't think there is too much bickering about clean hits being suspended. Really, the head injuries being resolved is more on the players than on Shanahan, so his take on rather letting a guilty man get off fairly easy vs. suspending a Nik Kronwall hit is the right thing.
Drew: I don't care for porridge, personally – but I think this kind tastes a whole hell of a lot better than the last cook's.
Chris: Unlike Drew, I'll actually give an answer to the question asked. I think he's been very close to dead on. I think his suspensions have been generally consistent and long enough to make a point. I think it's working too, as I notice a definite trend of players doing what they can to not make contact to the head, but still throw hits. And the most important part is that Shanny has made sure not to suspend players for hits which don't deserve it, such as Kronwall's. He's done a great job keeping hitting in the game.
3. Does Miller deserve a chance at a top line?
Jordan: No. He's an energy/checking line player. He has at moments given us timely goals, but so did Maltby and Kocur.
Josh: Miller does deserve to be rewarded with a shot on the top lines before the playoffs. I don't think he'd do too bad in Bert's spot for a game or two. His style lately has reminded me a ton of Z with his backhand shots and ability to drive toward the net.
Twig: No. Miller is a grinder and should stay a grinder. He provides great spark on the 3rd line and chips in goals when we least expect it. That's why we like him so much: because we don't expect him to score. Put him up a couple of lines and we'll raise our expectations. If he doesn't meet those expectations, we'll get pissed. So let him stay where he is. He's earned a regular spot on the 3rd line and continues to earn a contract year after year. The Wings have not gotten many players off of waivers, but Miller is my favorite.
Sully: Yes, but that doesn't mean I want him there. He's a feisty checker with good hands and a nose for getting into scoring position, but that's precisely what he adds to the 3rd line. Besides, he needs to be fresh for the PK. Wouldn't mind seeing him in front of the net on the PP if things don't get better in that department though.
Drew: Probably. I think Miller would turn into the next Patrick Eaves playing on the top line. Eaves-dropper did wonders for us during our previous injury epidemic…but then again, he'd be playing with Pavel…where ANY ONE should be able to score.
Chris: No. Miller's a great guy to have on the fourth line and I love what he's done from there this year, but unless we have a serious injury problem, I don't think it makes the Wings better having him on the top line. I'd move him up before a lot of other guys though (Cleary).

4. Should Nyquist keep his spot on the top two lines? If so, who should he replace (Franzen, Hudler, someone else)?
Jordan: I think he deserves the spot, but so does everyone else that is already there. Mule and Bert work well with Datsyuk. Same goes for Z, Filppula and Hudler. If I had to replace someone it would be Bertuzzi.
Josh: Nyquist would be GREAT on the first 2 lines in the playoffs. With that said, I'm thinking the 3rd line is where he belongs for now. We know he can perform up higher and will if someone gets injured, but why bump someone like Hudler or Franzen? Sure, Franzen isn't getting as much done as we'd like. Hudler, however, is really playing balls out and trying to make a difference. I tend to think he's much better on the puck than previously and actually can help be a difference maker on that 2nd line since the chemistry is there. Let's just keep Nyquist in a role where he can be dangerous, but get used if needed…for the moment. His time to shine as a top line player is real soon.
Twig: Yes, he should be on the top line. I'd be fine with replacing him with Hudler, Franzen or Bert. Bertuzzi has been good the last couple of games, but he's streaky. Franzen doesn't care where he plays as long as the checks clear. Hudler drives me mad. He's a terrible passer, passes to the wrong guy almost every time and kills scoring chances for us. Yet he's second on the team in goals. If he just shot the puck more, he'd score 40 a season. Drives me crazy. Anyways, drop Franzen a couple lines since he doesn't care.
Sully: Just because it's playoff time I say demote him in favour of Franzen, and if we need depth we can call him up and be on Pav's line again rather than promoting a guy like Cleary to the top line. Not often you have a call-up who is either scratched or on the top-line, but I just don't see Nyquist fitting in on the bottom 6 (7-12, if you're the FSD guys).
Drew: Nyquist needs to be patient and so to do we. Nyquist will get his shot – I'm just not sure that now is the time.
Chris: I think you stick with what was working, and that was having Nyquist on the second line with Datsyuk. The kid's got talent. At the very least, I think you put him down on line three where there's still some skill to work with and not have him be a skilled guy on a line with grinders (fourth line).
Now lets hear your thoughts in the comments.