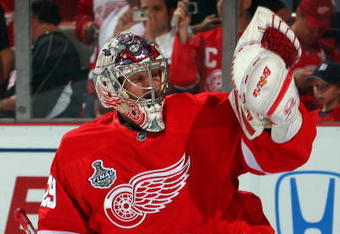 Conkblock is pretty much gone and the seat behind Howard is empty (though that Joey guy keeps trying to sit in it.) So, let's look at the goalies available on the open market to back up Howie next year.
Now the one thing that Joey gives us is a solid backup to the backup position. The Wings have certainly hinted that he's going to start the year in GR, so that gives the Wings a bit of an advantage to take a goalie that's a little riskier, with a higher upside.
Hit the jump for those available.
I'm only looking at those options that are on the open market next year; I haven't even considered trades as I don't think Detroit would give up anything to get a backup. Let's start with my personal choice:
Jonas Gustavsson: I've been a big fan of this guy for a while and I stick with it. He was thrown in a no win situation in Toronto and was hot and cold, but it's certainly hard to play in that city, especially with that defense. I think his upside is higher than almost any goalie in the league and just needs a little calming influence (Lidstrom anyone?) and coaching to bring him up to near Howard's level. Hell, when Howard got into the league, he had all the same problems the Monster has and look where he is now. Plus he's Swedish. We like those guys.
Tomas Vokoun: Well that little experiment in Washington didn't work did it Tomas? Until this year, he was the definition of solid. He still had an ok year stats-wise and I think would be a perfect backup who would push Jimmy. His flexibility is poor, but his positioning and smarts is usually bar-none. This is almost a no-brainer if he'd be interested in a backup position.
Scott Clemmensen: Once considered an average backup at best, he's out-performed expectations wherever he's gone since returning to the Devils in 09-10. This is a safe, Ty Conklin style circa 2008 pickup of a goalie who won't win you the cup, but would give them a good chance to win any game he plays. Plus, I think we could get him on the cheap.
Josh Harding: This, I think unfortunately, is a pipe-dream. He's a hell of a goalie (though he catches with the wrong hand, damnit) who has a bit of a consistency problem. I would think that Minnesota will try to resign him or he'll get a starting job somewhere. Hopefully far away from the Central division as possible, as he's a Wing killer.

Marty Biron: He's the definition of a replaceable goalie. He put up average numbers on a good NYR team and while he doesn't disappoint, he doesn't impress either. I wouldn't hate this signing for around 1.2 million, but I wouldn't love it either.
Al Montoya: I thought he was average or even bad at Michigan, so the fact that he's made it to the NHL is impressive in my eyes. And he's actually done decently with a terrible Isles team ahead of him as well. He'd be cheap, has Michigan roots, and a decent upside.
Curtis Sanford: Coming in for Steve Mason after the first month of the season, he looked like Columbus' golden savior for a while. Then again, if you put goal pads on a puppy, he'd do better than Mason. And probably adorable. Anyways, Sanford actually played pretty damn well with that terrible team in front of him and I'd have no problem with him behind Howard this year.
A few more:
Chris Mason: See what I wrote about Marty Biron, except I think he looks like a douchebag.
Dan Ellis: See what I wrote about Chris Mason, except he IS a douchebag.
Brent Johnson: He has a hell of a left hook. I think he's goaltending skills are waning, but man, that left hook is awesome.
Other possibilities include Alex Auld, J. Hedberg, Marty Turco. No thanks on those (Hedberg is 39.)
I think my preference, realistically is 1.) Gustavsson 2.) Clemmensen 3.) Sanford, assuming that Vokoun and Harding wouldn't want to be a backup.
So who do you want the Wings to get? One of these guys or someone else? Sound off in the comments.
Don't Forget To Follow NOHS on Facebook and Chris on Twitter, which he consistently forgets he has.