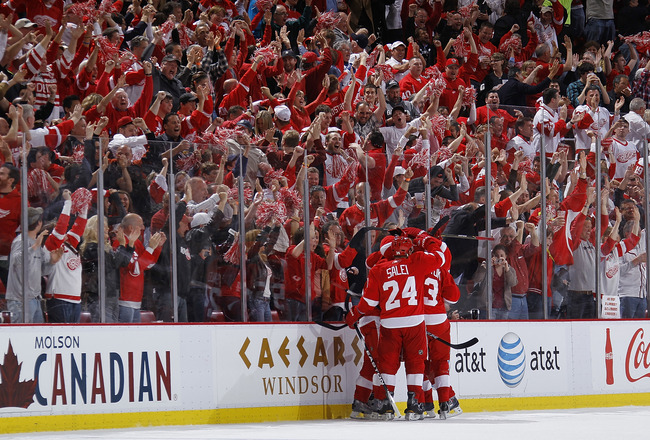 So Detroit is hosting the WC and life is good. And not only that, but the game is against an original six opponent, one that Detroit has a lot of history with, Toronto. And like the Red Wings, their fans travel…very well. In fact, Toronto is one of the only teams that can get a significant contingent into the Joe when they face-off against each other.
Hit the jump for the call to arms.
Now, this presents a challenge to fans of the Wings. This is a home game for the Wings and I certainly don't want to see a significant contingent of Toronto people there. I want a Red and White out in those stands.
Michigan being what it is today (a terrific state with some terrible decisions made in the past), us Wings fans are all over the country. This is going to be a reunion of sorts.
Now I have no idea how tickets will be sold. But with 100k available, it should be fairly open on the market.
So here's a call to Wings fans, everywhere. No matter what the reason, get to this game. Wear your Detroit colors. Remind the few Leafs fans who make it in that my 54 year old father was 9 when they last won a cup. Do whatever you can to make Michigan proud.
Start planning now. Winter Classic 2013 – be there. Do it for Detroit.