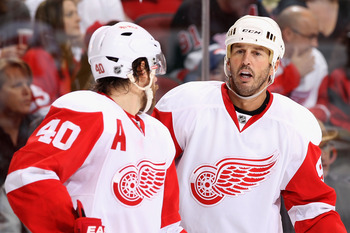 Just a quick update, it looks like Detroit will ice the same lineup as Saturday. Zetterberg, while feeling better, isn't ready yet.
"Probably 5 percent better than yesterday," Zetterberg said.
And what did he feel like the day before?
"I would say between 40 and 70, maybe," Zetterberg smiling. "As I said, I felt better than yesterday. As long as the progress is going that way, I'm happy."
Sounds good to me. Don't rush back until we really need you.
Anyways, Modano is still on the sidelines and I would understand if he was pissed about it. Yet he seems to be taking it in stride.
There was a sequence at the end of the Red Wings' practice in Scottsdale, Ariz., on Sunday in which Mike Modano was thwarted on back-to-back-to-back attempts by Jimmy Howard.
Turns out, Modano played to Howard's ego.
"You've got to keep their confidence up, you know, the goalies," Modano said, grinning, while Henrik Zetterberg sat next to him, laughing. "You've got to make them feel good for tomorrow. They're sensitive guys."
Chris Osgood, though, was happy to let Modano score on him. "He looks so fabulous coming down the ice, I just let him do what he wants," Osgood said.
Good to hear and if, and when we need the vet, I hope he's ready.