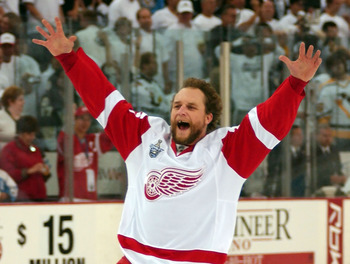 For Thanksgiving, it would be easy to list the many reasons why we should be thankful for being a fan of the Red Wings. However, for this article, I wanted to change it up a little bit. Let's add a little hate to this Thanksgiving. You can still be thankful while mocking right?
Let's get this started after the jump.
I'm thankful that our goaltender doesn't suck like Corey Crawford.

I'm thankful that we don't employ anyone who's sucker punched a cabbie.
I'm thankful that our Captain has never called our coach a "fat f#$k."
I'm thankful that Corey Perry and Ryan Getzlaf have been terrible hockey players this season.
I'm thankful that Wings fans completely embarrass other teams by taking over their arenas on a regular basis.
Yes, this was an away game.
I'm thankful that Getzlaf still hasn't realized he's really balding back there.

I'm thankful that our fanbase isn't 90% made up of bandwagoners who couldn't tell Daze from Kanye.
I'm thankful that Crosby has to deal with Pronger and company now.

I'm thankful our Norris trophy winner decided to be a star for more than just one season and didn't finish -4 in two straight games recently.
I'm thankful that when players leave the Wings on their own accord, they generally end up looking back and thinking that was their worst decision of their life (e.g., #91, #22, #37, #3)

I'm thankful that no Detroit player has ever looked like this:

Or this.

I'm thankful that Detroit doesn't consider getting swept in the Western Conference Finals a successful playoff season.
I'm thankful that we haven't embarrassed the franchise by retiring a player's number who only played one year with our team.
I'm thankful that the best player in the league isn't the talented crybaby who's force-fed down our throats on a daily basis, but rather a calm, collective, well-spoken, perfect young man on Detroit's blueline who's clearly found the fountain of youth and isn't sharing it with us.
And this one is serious. I'm thankful for all our readers here at NOHS, the fact that you actually read our stuff, that you respond with your insightful and witty comments. Thank you for giving me the chance to write about the best team in sports and I hope you enjoy.
Hope everyone had a great Thanksgiving. Go Wings!