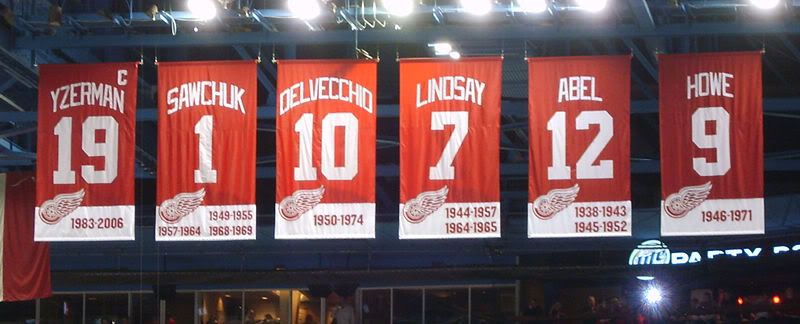 Yell at me if this has been covered before, but the Bleacher Report ran a story about a month ago listing the top twenty five Red Wings of all time.  This is a very interesting topic.  Here it is:
25. Darren McCarty: 1993-2004, 2007-09
24. Kris Draper: 1993-Present
23. Vladimir Konstantinov: 1991-97
22. Larry Murphy: 1996-2001
21. Slava Fetisov: 1995-98 
20. Marcel Pronovost: 1950-1965 
19. Chris Chelios: 1999-2009
18. Bob Probert: 1985-94 
17. Igor Larionov: 1995-2000, 2000-03
16. John Ogrodnick: 1979-87 
15. Reed Larson: 1976-86 
14. Henrik Zetterberg: 2003-Present 
13. Pavel Datsyuk: 2002-Present 
12. Chris Osgood: 1993-2001, 2005-Present 
11. Brendan Shanahan: 1997-2006 
10. Norm Ullman: 1955-68 
9. Red Kelly: 1947-60 
8. Sergei Fedorov: 1990-2003 
7. Sid Abel: 1938-43, 1945-52 
6. Ted Lindsay: 1944-57, 1964-65 
5. Terry Sawchuk: 1949-55, 1957-64, 1968-69 
4. Alex Delvecchio: 1950-74 
3. Nicklas Lidstrom: 1991-Present 
2. Gordie Howe: 1946-71 
1. Steve Yzerman: 1983-2006
Certainly not a bad list, though clearly it is the players that have meant the most to the franchise rather than the most talented.  Here's his criteria (plus they needed a respectable tenure with the Wings):
To my mind, a "Red Wing" player is defined by his skill, his work ethic, his ability to put the team ahead of himself, and, his contribution to sustaining the Detroit Red Wings as the most successful US-based NHL franchise in history.
First thing that jumps out at you is Yzerman over Howe.  I like this pick.  Mr. Hockey might have been a better player overall (maybe the best ever), but Yzerman was Mr. Detroit.  Their numbers are very similar too.
Fedorov over Datsyuk?  Fedorov was great and maybe slightly more offensively talented than Pavel, but Datsyuk is primed to be one of the best Wings of all time.  Same thing with Zetterberg.  These two mean much more to the Wings than Fedorov ever did.
Holmstrom needs to be on this list.  Did you know that he is 13th all time in Wings scoring?  I didn't.  His ass is legendary and has been useful for the past 1 million years it seems.
Fetisov was an incredible defenseman for the Wings two Cups in the late 90's, but he was only on the team for 3.5 years at the end of his career. Another all time great, but one of the top 25 all time Red Wings?  I'm not sure.
Larry Murphy is #22.  Now I remember him being pretty good (sort of a bigger assed Rafalski when he played), but I never really remember Murphy as being a true "Red Wing".  I wouldn't have him on this list.
McCarty certainly belongs at #25, no higher, but no lower either.  I almost think the grind line should all be on the list together, as one player. Just like I don't think they should retire their numbers individually, but maybe as a line.  A Wings rule that a #18, #25, and #33 can never play together on a line again.   Yeah, I like this idea.
Holy sh!t, Draper is #23 scorer all time for the Wings.
Not a lot of goaltenders on this list.  Osgood certainly deserves to be where he is however.
Mikey Redmond should be somewhere on this list.  Sure he only played six years for the Wings, but he certainly is the Wings, inside and out.
Really though, it is hard to compare Norm Ullman with Pavel Datsyuk in any sense. Still, the writer, with the exception of the Homer omission, did a pretty good job.