Happy Thanksgiving Weekend!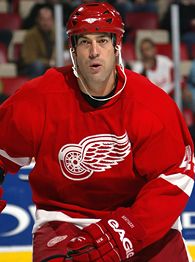 But first…Columbus?  Next.  Oh yeah, next is Columbus.  No matter.  A text message I received from a certain axe-murdering set-up man with an assist in Friday night's game assures me:  "We'll take you on any where, any time."  Speak of the Devil…would you pardon him this Thanksgiving?  MSM wouldn't either…
On to what this post is really about.  It's the holiday season and we find ourselves in the midst of Thanksgiving weekend.   And as a Red Wings fan, there is an infinite amount of glory for which I can be thankful.  Can we all agree that at this time of year, it's great to have our biggest problem, as Red Wings fans, be whether or not we're going to ever see Free Curly Fries again with a copy of the box score when someone scores a hat trick?  Lots of great things for which we should say thanks.  So the only problem is, where to start?
Winning – Yes this season is already much different than last season.  Not because of that thing that kept happening to all of our players, but because we're winning games we would have lost last year.  When scoring 3 goals or less per game, we have 7 wins so far this year.  Last year?  7 wins again, but the difference is 4 losses when scoring 3 or less this year to 12 last season.  That's a difference of 8 losses (just ignore the gimme-OT-point for now).
Defense – Brad Stuart hasn't stopped saving our bacon and it's all thanks to his effort.  The guy brings it.  Ericsson has been a big improvement this year and Nick Lidstrom is…well…perfect.  Which brings me to my next item of thanks…
Nick Lidstrom – Yahoo recently had a piece on how and why he is called The Perfect Human.  As fans of this team and loyalists to Nicky Norris, we already knew all that crap.  But the man will never be given enough credit for just how intelligent and technically sound he really is.  He'll also never be given his due on what a gentleman and great leader he is, gaining much renown throughout his career and always maintaining a high level of integrity.
Eurotwins – They actually ENJOY playing out there together.  So do it, Mike, Jesus.  Do all Red Wings fans realize how lucky they are to have this duo?  Does Mike Babcock?  Seriously, 10 seconds left in the game and our PP with a pulled goalie is going nowhere, can't even gain entry until Pav dangles through three Calgary defenders and backhands a perfect pass to Zetterberg who scores on the one timer with 3.2 seconds left.  And seeing things like this isn't completely unexpected.
Grinders – Although the era of the Grind Line may have passed, the intensity and effort and sloppy blue-collar-type goals remain.  Darren Helm, the guy that thinks it's neat we write for a blog named after him, Patty Eaves, Ryan Miller's bro and Justin Abkldtrklrdlk(sp?) can deliver a solid penalty killing shift wherein they offer their body parts as sacrifice to keep the PK functional, even if it means they no longer will be, and finish it all with a crushing body check or even a scoring chance.
Respect – No, not the kind of respect that you get from other teams that coincides with the fear they have of how many future Hall of Famers we can dress on a given night.  And not the kind of respect the Red Wings nation warrants from opposing fans when we show up to their arenas with a larger army than the home team can amass.  I'm talking about the respect this team, this franchise, gives its fans.  The best part of being a Red Wings fan is knowing that the fans are appreciated, whether it's their tribute to the Orange Hat Guy or what they've done for our friends during Breast Cancer Awareness Month, this team and this Organ-I-zation really have always made me and every other Red Wings fan feel like they care.  They care enough to put a competitive, successful team out on the ice for us every game of every season.  They care enough to take responsibility for it when they're not competitive.  Best of all, they care enough not to bring bad press upon themselves.  You'll never hear a sloppy seconds joke to the media before a game from one of our guys.  Even when we have justification you don't hear us whining about officiating or the play of our opponents (stay out of this, Johan Franzen).  It is simply the greatest franchise in sports, and could be the best run Organ-I-zation, ever.  In summation, we should all be thankful that our team is run by guys like Mike Ilitch, Jim Devellano, Jim Nil and Ken Holland.  I sometimes wonder what I could do for them to return the favour, but I think showing up on gamedays to watch them live is thanks enough.