Well well well, what a season. The 2010 Detroit Red Wings offered us much excitement, a plethora of fantastic highlight-reel goals, 1001 reasons to drink, and nearly twice as many injuries. Yes, it was a great season, with only a single regulation loss to an opponent we dominated on paper.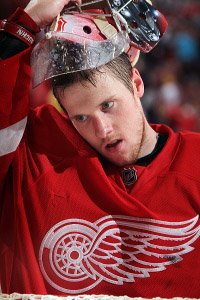 Highlights? Jimmy starting out with a shutout, for sure. Datsyuk in a fight? Oh yes. The resurrection of Bertuzzi? I know my strange Wiccan step-brother who lives in the basement loved it. The rise of Filppula. The Mule scoring at will against the Avalanches, as he is wont to do. Modano a goal on his first shot as a Red Wing, then retiring (but still suiting up and skating around out there). Grind Line Legend Kirk Maltby retiring and choking out a viciously emotional and strangely awkward goodbye. Many, many great moments to choose from.
My personal favourite? I'd have to say it was the game which I was present against the Phoennipeg Jet-otes. A real self-proclaimed rival of the Red Wings, them. Almost gave us a scare when the team, much like me, realised puck drop was actually at 6 PM and not 7:30 PM like it should be. So Kronwall wins it in overtime despite the drunk Indians (no, not those Indians, the ones you see in Phoenix, silly) telling me we were awful and needed to go back to the poorest city (I assumed they meant Cleveland) in the country. Also got to meet a slew of loyal, intelligent and all-around pleasant Red Wings fans at that game. Thanks again, one and all who stopped to say hello or share a drink! One of the most splendid times I've had at a Wings game not played in Detroit, to be sure.
Lastly, I'm proud of how strong the team finished, ending the regular season with another win streak, this time three in a row.
Wait a second…what's that you say? The Red Wings season is not over? Not even the regular, non-playoff version, in which tie games are decided by a matching-minor scenario for five measly minutes before going to a skills competition which doesn't reward goal-scorers for scoring and rarely rewards net minders for making miraculous, otherwise-game-saving saves (see also: Jimmy Howard, October 12th, 2010).
There are still more games to be played? But when? WHEN!?!?